HOT DEALS!
Get your fifth night free when you book Margaritaville Beach House Key West (Key West, FL), previously known as the Barbary Beach House Key West. With its recent reopening, the resort has expanded its retail outlet and upgraded the Tin Cup Chalice Bar & Chill. The 186-suites, lagoon-style pool, and lounging hammocks throughout the grounds all line the Smathers Beach oceanfront. The resort has indoor banquet space and outdoor gardens and courtyards, including a 1,500 sf Tiki for smaller functions. Complimentary shuttle service to the Key West International Airport, Duval Street, and the Downtown Seaport Harbor.
www.MargaritavilleBeachHouseKeyWest.com; (866) 237-5022.
FRESH REBRANDING AND OPENING
Mainsail Lodging & Development (Tampa, FL) has launched Stay Sojo, a rebranding and expanded evolution of the company's Mainsail Corporate Housing venture. Inspired by the word "sojourn," Stay Sojo is a customer-driven brand designed for professional travelers needing flexibility, freedom, and comfort to live their own on-the-go experience. Stay Sojo offers quick and easy access to fully furnished, expertly styled one-, two-, and three-bedroom apartment homes to more than 100 cities throughout the U.S., available for short- and long-term stays. "Just like the rest of the travel industry, the short-term rental space has been radically impacted by the events of the past 18 months, creating new opportunities for us to innovate and better meet the business and leisure travel needs of our guests," said Joe Collier, founder and president of Mainsail Lodging & Development. "Indications are for positive growth – average occupancy is rebounding and estimated to grow 30% this year, with the industry returning to 2019 booking levels by 2023," he added. Sojo's apartment homes are professionally styled with fully equipped kitchens, in-suite laundry, and laptop-friendly work areas, allowing guests to work and play in environments that feel like home. Some units are also pet-friendly and offer unique amenities designed to enhance every lifestyle.
FREE FOR THE SEASON
Pixilated has a gift for you. Rent a photo booth from the Baltimore, MD company and they'll help you decorate it. With any rental, you can choose for free, any of 10 holiday season templates. The offer is valid throughout 2021.
TECHNOLOGY
Hospitality Financial and Technology Professionals (HFTP®) and the Global Finance Committee (GFC) are preparing for the Fall 2022 release of the 12th Revised edition of the Uniform System of Accounts for the Lodging Industry (USALI). Ahead of publishing the newest edition, the HFTP and the GFC has invited leading industry stakeholders to participate in the review of exposure drafts, requesting comments for consideration ahead of the 12th edition publication. "The exposure draft process allows HFTP and the GFC an opportunity to 'test drive' significant changes being recommended to the guidance for lodging industry financial and operating reporting," said GFC Communications Subcommittee Chair Ralph Miller, CPA, CA, CBV, CHA, CHAE. The first exposure draft presented is for a new section titled: "Energy, Water, and Waste." Subsequently, HFTP and the GFC plan to release an exposure draft every two to three weeks through January 2022 to a group of key stakeholders who have agreed to participate. The USALI is an important guide widely used internationally as a standard for financial and operational reporting. Its primary purpose is to offer operating statements formatted to provide hotel owners, managers, and other interested parties with operational information pertinent to the lodging industry. The USALI was first published in 1926. HFTP acquired the copyright to the USALI in 2018. In October 2019, HFTP together with the American Hotel & Lodging Association (AHLA) formed a co-sponsored committee to update and expand the USALI 11th edition based on both U.S. and international standards. The new Global Finance Committee (GFC) is comprised of financial leaders from the largest U.S. and international hotel brands, operators, owners, public accountants, industry research firms, lodging consultants and academicians. The USALI is available as a digital subscription service or a soft cover book. The subscription costs $14.95 USD a month or $149.95 USD for an annual subscription and includes access to the full edition along with a collection of subscription-only resources such as FAQs and guidance articles. The soft cover book is available for $149.95 USD.
A webinar, "A Look at the New Energy Reporting and Sustainability Benchmarking Standards for the Lodging Industry" will be held on Dec. 10 at 10:00 a.m. EST. Panelists include: Amy Bourne; Senior Manager, Sustainability & Supplier Diversity, Marriott International; Eric Ricaurte, Founder, Greenview; Raymond Martz, Chief Financial Officer, Pebblebrook Hotel Trust; Agnes DeFranco, Conrad N. Hilton Distinguished Chair, University of Houston; and Ralph Miller, President; Inntegrated Hospitality Management Ltd.
www.usali@hftp.org; (512) 220-4020.
The 169-room Innovation Hotel (Naples, FL) has become one of the first two hotels in Florida, and one of the first hotels in the United States, to utilize the Synexis™ BioDefense Reduction System for its public areas. The state-of-the-art Synexis technology quietly and effectively uses the oxygen and humidity already in the air to create Dry Hydrogen Peroxide (DHP™), which has been proven to reduce the presence of bacteria, mold, odors, insects and viruses, including SARS-COV-2, also known as coronavirus. "In our ongoing commitment to provide the safest space possible for guests and staff, the Synexis system sets us apart and allows us to offer peace of mind to professionals ready to reconvene face-to-face meetings, and to the talented team of employees who make those meetings a reality," said Gary Hyre, general manager. "This technology provides an extra layer of defense against bacteria and germs in the air and on surfaces without disrupting or distracting from business." Innovation Hotel opened in early 2020 to primarily accommodate visiting surgeons and other leading medical professionals from around the world visiting the corporate headquarters of Arthrex, a global medical device company adjacent to the hotel. To provide assurance to visiting clientele, the Synexis system was installed in all public areas in the hotel and the Arthrex facilities. Innovation Hotel has since opened its doors to a broader group of executive-level meeting professionals. The hotel has installed the Synexis system in each of its 48 meeting parlors. "Demand for in-person meetings is steadily growing, but safety is still a major concern," said Victoria Walther, group sales manager. "The Synexis system has been key when selling groups on the property because it is real added value and allows us to offer one of the cleanest spaces possible to conduct business in person." The property features 3,715 sf of indoor meeting space, including the high-tech Innovation Cinema with a capacity of up to 40 guests. Across the street, Arthrex One has an additional 19,000 sf of meeting and conference space as well as a 20,000-sf Wellness Center.
www.InnovationHotel.com; (813) 614-1717; sales@innovationhotel.com
HOLIDAY FAMILY FUN
Hundreds of manatees are slowly cruising from the cooler waters of the Gulf of Mexico to the warmer pristine 72-degree springs of the Plantation at Crystal River, FL. Take advantage of the new one-night package to interact with these mammals. The package includes overnight accommodations in a garden view room, a snorkeling tour for two with equipment provided, breakfast for two at West 82⁰ Bar & Grill, and a welcome bag filled with a plush manatee toy, fun facts, and manatee interaction guidelines. All manatee tour boats, which are enclosed, provide hot chocolate and coffee, warming boat coats and towel service. All tour captains are licensed, insured and USCG certified, and each boat is equipped with power poles to limit environmental impact. Upon return from their tour, guests are treated to a hot shower facility and changing rooms for those who already checked out or snorkelers not staying at the resort. High-quality photos and videos are available for purchase after the tour. Prime manatee viewing season usually runs from Nov. 15 through Mar. 31.
https://www.plantationoncrystalriver.com/; (800) 632-6262.
Now thru Dec. 26 – Winter Woods spectacular. A half-mile of millions of lights along a winding road through Louisville, KY's scenic Iroquois Park.
Now thru Jan. 2 – Fête de Noël transforms Paristown into a Winter Village featuring Louisville, KY's only authentic outdoor ice-skating rink.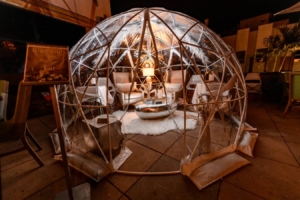 Through winter: Get toasty in one of eight themed, all weather heated igloos at Iglous at 8UP Elevated Drinkery & Kitchen, downtown rooftop bar at the Hilton Garden Inn Downtown Louisville, KY.
Now thru Jan. 2 – Lights Under Louisville, KY. The Louisville Mega Cavern transforms into a festive underground light spectacular. Enjoy a 30-minute ride through part of 17 miles of underground passageways.
Dec. 2 – 30 – Gardens Aglimmer at the Waterfront Botanical Gardens, Louisville, KY. Self-guide walking tour through an illuminated outdoor wonderland. Santa and Mrs. Claus are there too.
Dec. 3 – Jan. 2 – Winter Illuminations Trail Walk through the Parklands of Floyds Fork, igniting an illuminated trail walk through the beautiful Beckley Creek Park (Louisville, KY)
Winter Wonderland at Shawnee Park | December 17-19
Karen Kuzsel is a writer-editor based in the Orlando area who specializes in the hospitality, entertainment, meetings & events industries. She is an active member of International Live Events Association, Meeting Professionals International and the Society of Professional Journalists. She is now serving on the 20121-2022 MPI Independent and Small Business Owners Advisory Board. Karen writes about food & wine, spas, destinations, venues, meetings & events. A career journalist, she has owned magazines, written for newspapers, trade publications, radio and TV. As her alter-ego, Natasha, The Psychic Lady, she is a featured entertainer for corporate and social events. Karen@KarenKuzsel.com; www.karenkuzsel.com; www.ThePsychicLady.com; @karenkuzsel; @thepsychiclady.